Let's start decorating our tree in an old-fashioned way… handmade! Garlands are on the menu today.
Garlands could be made of popcorn, cranberries or a mix of the two. Pop popcorn, then thread a needle with a very long strand of thread (or dental floos is good too). Poke the needle through the middle of each piece of popcorn. You could do 3 pieces of popcorn, 1 cranberry and go on and on.

Décorons l'arbre de Noël à l'ancienne – fait main! Commençons par les guirlandes pour aujourd'hui.
Le plus souvent les guirlandes étaient faites de popcorn, canneberges ou les deux ensembles. Facile à faire, cuire le popcorn et en utilisant une aiguille et du fil relier les morceaux. Un beau motif serait 3 morceaux de popcorn, 1 canneberge et on continue.
http://stitchingdream.blogspot.ca/2011/12/2011-christmas-ornaments-and-crazy-for.html
You could also string rope around the tree. Une corde autour de l'arbre serait bien aussi.

Source : http://www.ecrater.com/p/3504281/sale-primitive-christmas-rope-garland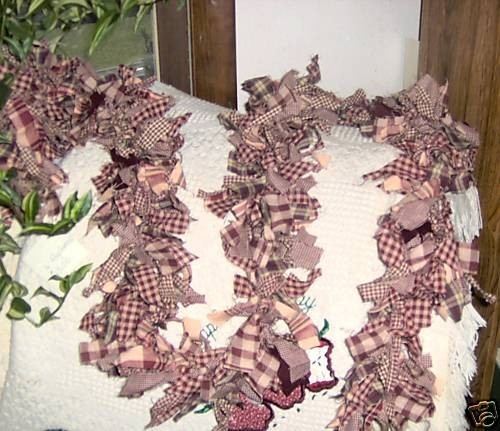 A rag garland is also very pretty. Une guirlande avec des restes de tissus serait très jolie.
Source : http://www.ebay.com/itm/Country-primitive-9-burgundy-and-tan-rag-garland-swag-hand-made-from-homespun-/351020991756#ht_378wt_1362
Tutorial : http://theheirtoblair.tumblr.com/post/1266241140/rag-garland-tutorial
Button garland. Une guirlande de boutons.
Source : http://designmag.fr/deco/deco-noel/decoration-de-noel-facile-faire.html